Dan Weber
Dan grew up in Tillamook Oregon, or as he likes to call it, Alabama By The Sea. Having always wanted to do comedy, he waited a mere 24 years to start. The intervening time wasn't a total waste, as it provided him with a wealth of material to draw from. Dan talks on stage about all the topics you are supposed to never discuss in polite company. From religion to politics to life experience over-sharing, he leaves no sacred cow untipped. Dan also has a podcast, Reading The Bible With Dan, where he reads and mocks America's most revered book.
Here are a couple of the things that have been said to Dan after a set:
"I hate you, but you're still pretty funny." "If you ever tell that joke again, I will sue you."
Dan runs the local Portland area showcase Funny Humans on a weekly basis. Dan has performed at the Idaho Laugh Fest, Seattle Comedy Underground, Punchline Comedy @ Jai Thai and nearly every showcase in Portland Oregon. He also likes roleplaying games but please keep that to yourself.
Tim Hammer
Young, fresh, full of life and Totino's pizza. Tim Hammer's style revolves around one-liners. Audience members often share his one-liners with their friends. And possibly enemies.
In 2013, Tim performed at Bridgetown Comedy Festival, was a finalist in the Portland's Funniest Person Contest, and then a finalist in the Big Sky International Comedy Competition. He has performed at venues such as the Hollywood Improv, Helium Comedy Club, Seattle Comedy Underground, and Applebee's. Tim has performed with Sarah Silverman, Dana Gould, Ron Lynch, and a microphone. He does not lip-sync any of his material.
Jon Washington
In a short time, Jon Washington has become an indelible part of the Portland Comedy scene, appearing on LiveWire Radio, at Helium Comedy Club, and having had his existence acknowledged by the Portland Mercury on multiple occasions. In addition to producing and being seen in shows peppered about the Portland area, he's cut a swath across the Pacific Northwest, appearing at Bumbershoot, Seattle's Comedy Underground and a smattering of pool halls and lotto dens across this great region.
He stalwartly hosts the podcast Jon Reads the Paper, which celebrated its one-year anniversary. He is also one of the head writers of the Spicy News, which has had guests that include Bridgetown favorites Kyle Kinane, Pete Holmes, Ron Funches, and so many many more.
With a dry wit and the ability to spin the trivial into the super-grave (and vice-versa), Jon's focused his neuroses into a distinct voice. Jon Washington's cerebral approach to both pop culture and the mealy fabric of everyday life has quickly earned him the mantle of being the Jon Washington of Standup Comedy.
Alex Falcone
Alex is a fresh, young, moderately attractive comedian living in Portland, OR.  Here's just a sample of the cool stuff he does:
He appeared on the IFC show Portlandia.
He writes for the Portland Mercury.
He's the host and head writer of the live talk show Late Night Action.
He is the host and producer of the surprisingly popular podcast Read it and Weep, which dissects the worst books, movies, and TV shows.
Despite all these amazing accomplishments, he remains totally down to earth and approachable.
http://www.alexfalconecomedy.com
Read it and Weep – A good podcast about bad books, movies, and TV. http://read-weep.com
Joe Hieronymus
"Joe Hieronymus is strangely irresistible. His humor is honest, intelligent and absurd. Hieronymus uses one-line jokes and characterizations to slyly traverse politics, pop-culture and social mores with his ridiculous love affair with language. His seemingly inside jokes imaginatively include, and hilariously skewer, all topics."
http://joehieronymus.wordpress.com/
https://twitter.com/joehieronymus
http://joehieronymus.tumblr.com/
https://www.facebook.com/joehieronymus
Shawn Alan Boomer
Boomer grew up calling the Pacific Northwest home! Known for his wild antics, he's mostly popular as one half of the #1 rated "Cort and Boomer Show" on Portland rock radio station 101.1 KUFO-FM. He can even be seen on the Netflix special Comedians of Comedy with Patton Oswalt, Maria Bamford, and Zak Galifanakis! Now he makes the audience laugh in person, as a stand up comic. Since 2008 Boomer has brought a brilliant mix of material and comedic observations, leaving people in stitches!
Boomer is a regular performer at Harvey's Comedy Club(Portland, OR), and was a finalist in the Willamette Valley Funniest Person Competition. He has opened for Kirk Fox (Parks and Recreation), Brad Williams (Carlos Mencia Show), The Monsters of Comedy Tour (w/Ari Shafer, Jason Rouse, Sam Tripoli, and Chris Neff), the Pink Ribbon Comedy Tour, side show freak "The Enigma", and also performed for The Veterans Club at PCC. He thinks that's performing for the troops; we think it's adorable!
Curtis Cook
Curtis is a comic from Cleveland, Ohio. He now lives in Portland, Oregon. Sometimes he does fancy shows and festivals and stuff, like the SLC Comedy Carnivale, Cleveland Comedy Festival and Bridgetown. Curtis doesn't like a lot of things and has been referred to as a "charming nihilist," "the physical embodiment of insecurity," and, "an existential crisis on stage." Those are almost nice things to say about a person. The Portland Mercury once compared his stand-up to slam poetry and Curtis mailed that article home to his parents in a desperate attempt to validate the thousands of dollars they invested into a writing degree. He can be followed on Twitter at @Curtis_Cook.
Neesie Doss
Neesie was born in Northern California's wine country and has been a working alcoholic ever since. Her father was Egyptian and her mother American; subsequently, Neesie enjoys eating falafel on hamburger buns with fries and hummus. Neesie has been delighting audiences with stand-up comedy from the time she was kicked out of junior high for what her American Lit teacher called "being a f***ing b****."  She performs regularly at Portland venues including The Tonic Lounge, Kelly's Olympian, Brody Comedy Theater, The Boiler Room and Ford Food and Drink. She also braved performing at The Benbow Room, Seattle's renowned pirate bar. In her spare time, Neesie likes to create comic books and puppet shows for adults. Neesie can be reached at neesie.d@gmail.com and www.facebook.com/neesie.doss.
Lauryn Pithey-Petrie
Lauryn is an ex-child actress, reformed drug addict, college drop out, ex-stripper and stand-up comedian. In the short time that Lauryn has been doing stand-up comedy, she has performed in 4 states and has had the opportunity to perform and open for numerous national touring headliners, such as: Chris Neff, Rebecca Corry, Brooks McBeth, Brad Brake, Lonnie Bruhn and Jubal Flagg. She is also the co-producer of the monthly SMUT Show, currently taking place in Portland,Oregon and Seattle,Washington, that has featured such headliners as: Auggie Smith, Chris Neff, Kristine Levine and Sean Rouse, to name but a few.
Originally from Seattle, Barbara Holm has performed at the San Francisco Sketchfest, the Bridgetown Comedy Festival, Bumbershoot Arts festival, and the Women in Comedy Festival in Boston. She has written for IGN, The Portland Mercury, Hahajk, and the Huffington Post. She has been awarded Time Out New York's Joke of the Week and was named "one of the best things about comedy in 2012″ by the Comedy Bureau. Her comedy has been described as clever, unique, idiosyncratic, and exuberant. Seattle City Arts Magazine called her a "comedy wizard" and Seattle Stranger Newspaper described her as an "adorable wunderkind" and she describes herself as "running away from this question to hide under the desk right now."
Gabe Dinger burst into the stand-up world in 2005. In 2006 he won the Portland Amateur Comedy Competition and the CBS radio laugh off. Since then he has traveled all over the United States in clubs, colleges, and theaters. Working with such comedians as Bob Saget, Norm Macdonald, and the legendary Richard Lewis. Not only is Gabe an accomplished stand-up comedian he is also an improviser. He is a main stage performer and a teacher at the Curious Comedy Theater in Portland OR and is a member of the improv troupe Whiskey Tango. Whether it is his material, the unexpected twists, or his smile you will leave thinking "I liked that Dinger guy".
Photo by Jason Traeger
Adam Pasi.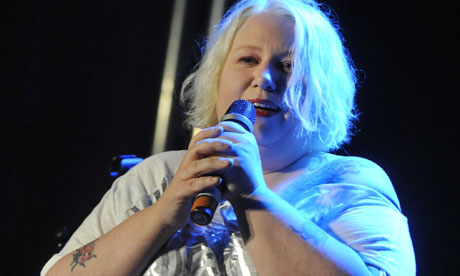 Kristine Levine