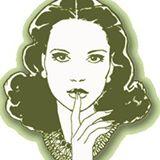 Recently, the Too Wet To Burn staff stumbled on Keep It Like A Secret (KILS).  Ravenous consumers of almost every reality television show, we first heard of "pop-up" in the context of restuarants. When we read the invite to KILS, we were thoroughly confused about where the venue was going to be, because some of our favorite comics, including Alex Falcone, Tim Hammer, Lucia Fasano, Mike Cahill, and Megan McFarland, were all on the bill. Hold on, let me get rid of this mouse in my pocket so I can speak in the singular.  I looked everywhere, clicked here, scrolled there. It felt like being put in a round room and told there is a penny in the corner. Once I finally figured it out, I decided to contact Jenna Zine to elucidate my erudite fanbase, self-described luddites one and all.
My readers are well known curmudgeons who don't hold to new-fangled flibbertigibbets. But in the name of giving them something new to be bitter and fist-shaking about, tell me what, exactly, is a "pop-up."  Hold on, let me get my ear trumpet.
A pop-up is an event lasting a short amount of time, in an unusual location. For instance, I've been putting on comedy showcases in my apartment and at my husband's recording studio, versus a bar or club, just for kicks.
Tell me a little bit about yourself. For example, how long have you lived in Portland, what do you do out in the world, who's your favorite Bay City Roller, etc.
JZ: I've lived in Portland since 1985. I was just starting high school (I'm old too – busted!) and I was devastated when my parents told me we'd be leaving Spokane, Washington. I laugh when I think about that now.
I have a Master's degree in Counseling Psychology, which I never used because I fell in love with grunge and started working in the music industry. My experience culminated in becoming the Marketing Director of the Crystal Ballroom, which is still one of the coolest jobs I've ever had.
After a lifetime in the Pacific NW, I decided to move to Tucson in search of sun and palm trees. Arizona was a weird blip on the radar, but I'm glad I had the time away – it gave me the perspective I needed to appreciate PDX, instead of taking it for granted. During this time I met my husband, did a bunch of traveling and started to focus more seriously on my writing. We finally came back home (aka Portland) four years ago. Upon returning, I started going to comedy shows regularly and finally admitted aloud that I wanted to do it to. I'm so in love with standup – it's changed my life forever, for the better.
I don't have a favorite Bay City Roller – how could I possibly choose just one? But I do have two favorite hair metal bands: Motley Crue and Def Leppard. You can take the girl out of Spokane…
I've only heard of "pop-up" events fairly recently in the context of restaurants, which means they've probably been going on for 20 years. When did you first hear of them and how did you make the connection to Portland comedy shows?
JZ: Keep It Like A Secret formed with a Twitter friendship. An account called Live @ The Apt started following me – they're two guys from NYC who put on comedy shows in a 2-bedroom apartment. I found open mics pretty intimidating when I first started – actually I still do – and I remember thinking, "If only I could do an open mic in my apartment with my friends." Which made me think, "Hey! Comedy plus apartment!" I dropped Drew, the founder of Live @ The Apt, a line and asked if I could put on shows here in the same vein.
Initially we were toying with using the Live @ The Apt name and tying the events together, but we ultimately decided it would be best if we did separate things. It would've been cool, but overall I'm glad to have the autonomy. I like to move fast and do things my own way! Drew Skyped in from NYC to kick off our first show, which was really sweet.
I don't remember when pop-ups bubbled up for me, but I do remember thinking the concept was quite charming. I fear that my showcase is slightly misnamed. It is a pop-up but, other than the first two at our apartment, they've taken place in one spot – at my husband's recording studio (Jackpot! Recording Studio). We are talking about approaching some other venues, but we don't plan on venturing that way until 2015.
The showcase name, Keep It Like A Secret, is actually in honor of my favorite Built To Spill album. I thought it was such a catchy name – and it ties in with the music industry era of my life. I worked on a ton of BTS shows at the Crystal and it's a happy memory for me. But everyone is like, "It's a secret! I can't tell anyone!" I can't blame 'em! I like that the name makes it sound exclusive – which is somewhat true. Seating is, and always will be, extremely limited.
What is the easiest part about putting together a pop-up? What's the hardest?
JZ: The easiest part is booking the performers. We've got an incredible pool of talented people here and, so far, everyone has said yes when I've asked them if they'd like to take part. It's such an honor!
I loved my job at the Crystal and felt I did it well. But I always assumed a lot of my success was grounded in the muscle I had with the backing of McMenamins. But KILAS and Jenna Zine Presents: Comedians & Comedies (a movie event I'm currently putting on at the Hollywood Theatre) is just me in my apartment. It makes it even more exciting because it's something I'm making happen on my own, from my own drive and passion.
The hardest part is making sure those seats get filled! I spent the first two KILAS laboriously going over the guest list, triple-checking whether or not people were actually going to show up. It was incredibly time-consuming. And, after all that, I'd forget to pass the basket for donations!
Those factors prompted the decision to sell tickets, via Eventbrite. It puts a value on the event – if someone has purchased a ticket, they're pretty damn likely to show up. Plus it's first come, first serve – no more fretting over the guest list. And I never have to worry about forgetting to ask for donations. We don't make any money on these – it covers our expenses and goes right back out into the hands of the comedians. But I'm having so much fun and wouldn't have it any other way.
How many shows have you done so far and who are some of the comedians you've featured?
JZ: The upcoming KILAS (Wed. Sept. 24th) will be my fifth one. I like to mix newbies and classmates (I've taken some fabulous classes at both the Brody and ComedySportz) with some established people when I can. Some of the featured comedians, thus far, have been Cara Parker King, Becky Braunstein, Craig May, Jason Traeger, Dax Jordan, Andy MacDonald, Josh Inocalla (from Nashville, via Skype), and Shane Torres.
September will include Alex Falcone, Tim Hammer, Lucia Fasano, as well as former classmates Mike Cahill and Megan McFarland. I'll also be hosting Ted Alexandro from NYC, via Skype, which is still blowing my mind. He's been on every major late-night television show and has opened for Louis C.K. at Carnegie Hall. I saw him at Bumbershoot and was blown away by his set. I emailed him on a whim and he said yes. I still have the bruises from pinching myself.
To remain apprised of all of Jenna's goings on, check out, and bookmark, her website: http://www.jennazine.com/jz/
The next Keep It Like A Secret show is happening September 24 at 7:30. Not many tickets left, so hurry here: https://www.eventbrite.com/e/keep-it-like-a-secret-5-tickets-12964654631